Black Pony Gallery is presenting Memory & Mark-making, a new series of metalpoint drawings by local artist Charles Zuill, with the online solo exhibition presents 14 original artworks that demonstrate the use of silver, gold, copper and brass to draw.
The exhibition runs November 29 – December 15, 2021.
Eclipse, 2021. Brass and silverpoint on black gesso
A former Bermuda College art lecturer, he has worked on for the entire year, using the ancient technique of metalpoint drawings.
He said, "Although I have long wanted to explore the use of metals as a drawing media, it was only during the recent Covid lockdown that I seriously undertook such an investigation. To prepare, I read what is said to be the essential technical manual on the technique, namely Silverpoint and Metalpoint Drawing, A Complete Guide To The Medium, by Susan Schwalb and Tom Mazzullo."
"Metalpoint has come and gone in fashion over the centuries, but recently it has gained renewed popularity. It is now possible to purchase fairly exotic and precious materials such as gold and platinum metalpoints as well as treated papers of varying colors. Although the materials are expensive, the durability is worth the investment."
Unfolding, 2021. Silverpoint on black gesso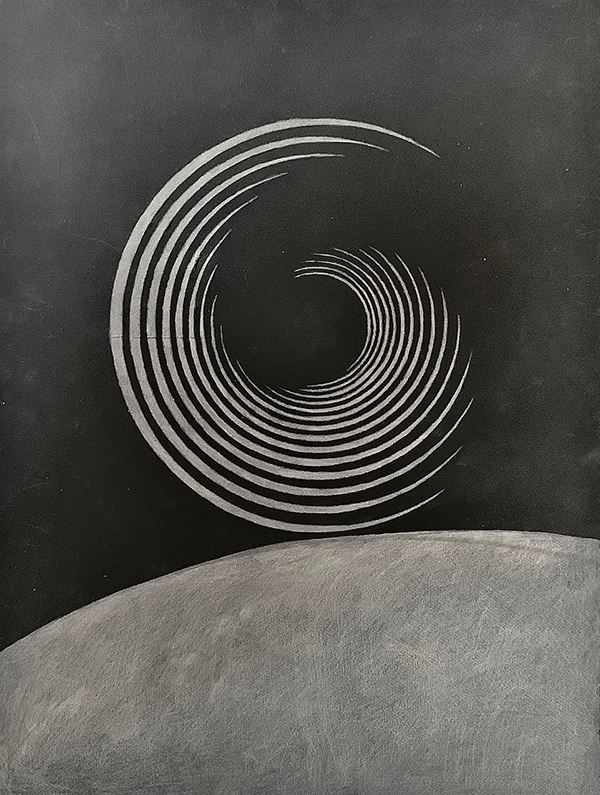 A spokesperson said, :Similar to the works Zuill presented in the inaugural edition of the Atlantic World Art Fair in June, this series has been inspired by childhood memories and impressions from literature, especially mythology. The artist also makes reference to "imagery from the Apocalypse and other Biblical references, aspects of Bermudian architecture, and themes suggested through travel."
The process of metalpoint drawing is patient work. Mr Zuill said, "Because of the hardness of this media, it does not lend itself to such gestural ease as is found with softer materials such as with brush and ink or soft graphite. The artworks evolve slowly, sometimes by trial and error, until eventually the composition comes together into a cohesive whole. These quiet, intriguing works encourage close-looking and perhaps a dram of science fiction. Enjoy!"
You can view the online gallery here.

Read More About
Category: All, Entertainment